On April 21, 2018 the employees of KGa reached a milestone of 365 days of safety. That's 1 year, 12 months, 52 weeks, 365 days, 8760 hours, 525,600 minutes or 31,536,000 seconds… that's the amount of time KGa has worked without a "time-lost" incident.
KGa's commitment to safety begins with every new hire receiving the KGa Safety Manual. The KGa Safety Manual opens with the Executive Team's written commitment to safety stating that all employees will be provided with an environment free of recognized hazards as well as a commitment to working safely. In addition to this, KGa requires and provides OSHA 10 certification training to ALL staff members. Everyone from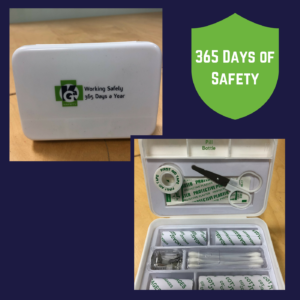 the fabrication crew to the marketing staff is required to participate.
In celebration of reaching the 365 days of safety milestone, each employee was given a first aid kit to mark the occasion with the slogan "Working Safely 365 Days a Year." The first aid kits will serve as a reminder to continue working safely not just at work, but to practice these habits in their daily life.
Congratulations to the staff of Kensington Glass Arts, Inc. on this safety milestone. Here's to another 365 days of working safely!