This month, Kensington Glass Arts, Inc. (KGa) would like to shine our Employee Spotlight on our Fleet Admin Specialist, Nikki Watkins! Nikki joined Kensington Glass Arts in September of 2019 in her current role.
Employee Spotlight on Nikki Watkins
Nikki was an Office Manager at a dental practice in North Carolina for 23 years before moving to Maryland. Once she moved to Maryland, she joined us at Kensington Glass Arts because of our great benefits. Kensington Glass Arts is proud to provide our employees with full health, vision, and dental benefits, 401(k) matching, generous sick and vacation time, and life insurance coverage.
Nikki's Day at KGa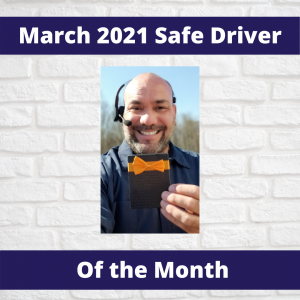 Nikki's typical workday involves monitoring all of our vehicles to keep an eye how our drivers are doing and vehicle diagnostic performance. This includes reviewing speeding, and harsh driving events. Harsh driving events include braking hard, hard acceleration, and harsh cornering. Nikki also runs daily reports based on these drivers' infractions, miles driven, and days worked. Additionally, Nikki personally responds to any calls we receive to report how a driver is doing. Nikki uses these reports to select our Safe Driver of the Month, based on which drivers drove the most miles/worked the most days with the least number of infractions. The winner of each month is given an Amazon gift card. This initiative was implemented in order to encourage and reward all our drivers to drive as safely as possible.
Nikki is also in charge of making sure all regulatory documents regarding KGa vehicles are up-to-date. Nikki also must make sure she keeps all our vehicle and drivers' documents up-to-date, this includes our registration, insurance, and emissions reports as well as drivers' licenses, and any certifications the driver may need to operate our vehicles, like CDL records.
A Wide Variety of Vehicles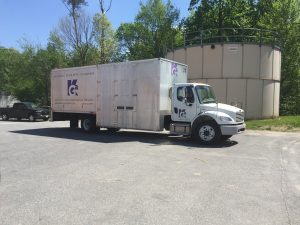 KGa has two primary types of vehicles. Our first vehicle type, the standard crew van, only requires a valid driver's license to drive. These are typically driven by our glass mechanics and superintendents. We also have large commercial trucks (see image to the left), reserved for our Department of Transportation (DOT) drivers and Commercial Driver's License (CDL) drivers. Our DOT drivers receive a medical exam to ensure they can safely drive some of our large trucks. In addition, our CDL drivers also, receive a medical examination and go through a lengthy process to ensure they are qualified to drive any Kensington Glass Arts vehicle.
Nikki ensures that all our drivers have the necessary certifications to drive their respective vehicles, this includes both the certifications and motor vehicle records mentioned above. In rare cases, some drivers may be limited in their ability to operate a KGa vehicle, because either they lost their required certifications or endorsements or had an infraction that violates our policy for drivers. These infractions include repeated traffic tickets, parking tickets, excessive speeding, and more.
With such a wide array of vehicles, Nikki is also in charge of scheduling maintenance and ordering parts for all KGa vehicles to ensure they are in safe operating condition. Nikki and her team also run general inspection trucks on our larger DOT vehicles.
Nikki's Favorite Part of Her Job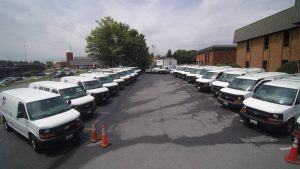 Finally, Nikki assists with preparing our new vans for our drivers. Nikki says this is her favorite part of her job. "I like when KGa buys new vans for the fleet, and I get to outfit it to go to the new driver." When Nikki outfits a new vehicle, she makes sure that the vehicle is equipped with a Verizon GPS device for monitoring performance, KGa branding decals, registration, and insurance cards, a fire extinguisher, first aid, grab-and-go pack, and a Safety Data Form (SDS). The SDF form goes over the chemical makeup of various materials, including those used in glazing like caulk, silicone, and cleaners, and discusses the chemical reactions that may occur in certain situations.
Nikki's Thoughts: Skilled Trades Vs.College
When we asked Nikki if a high school graduate should choose to go to college or enter the skilled trades, Nikki said she thought the skilled trades were a better option. "Skilled trades require less schooling, and are less of a financial burden in comparison to college," she explained.
When we asked why she joined the construction industry, Nikki explained that she didn't expect to end up in this industry rather, she landed in the construction industry because she joined KGa. As mentioned earlier, Nikki joined KGa because of our great benefits, like our full health and vision insurance, 401(k) matching, life insurance, and more. Nikki said specifically,
I chose to work for Kensington Glass Arts because I heard it was a great company to work for with great benefits. I never thought about the construction industry as a career, but I thoroughly enjoy it. I like learning all the in's and out's of the glass industry.

Nikki Watkins, Fleet Admin Specialist
What Nikki Does in Her Spare Time
In her spare time, Nikki enjoys spending time with her family and traveling. Her favorite travels are those visiting her family in Virginia Beach, and any other fun, family-appropriate vacation spots.
About Kensington Glass Arts, Inc.
Kensington Glass Arts is a leading glass fabricator, installer, and commercial service provider in the Mid-Atlantic and Virginia areas. Over 50% of what KGa installs, we produce ourselves. KGa has been recognized as one of the Top 50 Workplaces in Frederick, Maryland for three years in a row. KGa is always looking for employees who are passionate about the glazing industry. We have employees who began as part-time seam & wash technicians and are now running the entire fabrication department. These employees are a testament to the career paths offered by starting your career at KGa. If you're interested in becoming part of the future of glass, view our Careers page now!