Employee Spotlight | Derrick Curley
KGa Blue Team Field Superintendent
When Derrick was 17, he started working a summer job with his father in the construction industry. Derrick had no idea this job would ultimately lead him to where he is today. "I grew to love the glass industry," Derrick says. By the time Derrick Curley was 19, he worked full-time in the glass industry. For over 20 years, Derrick has worked in the construction and glass industry. At Kensington Glass Arts, Inc., Derrick works as the Blue Team Field Superintendent. In addition, Derrick has received internal company awards like Safe Driver of the Month for March and September of 2020. Read more to learn about Derrick Curley's experience at Kensington Glass Arts.
Derrick's Day
Derrick started as a lead mechanic at Kensington Glass Arts in 2017. Shortly after, Derrick was running job sites alone. Derrick was promoted to the Blue Team Field Superintendent position due to his passionate work. His workday starts in the early morning hours around 4 AM. Derrick arrives at Washington D.C., then immediately checks in with The Blue Team. "I always try to put them first," he says. After he checks in with his team, Derrick reaches out to the other Superintendents to see if they need any assistance with their tasks.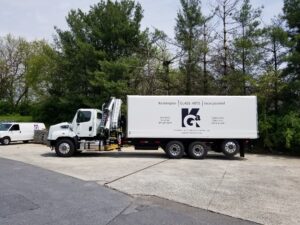 Each of Derrick's workdays faces a different set of challenges. That's why Derrick keeps his company vehicle stocked with tons of tools for any problems that may arise. Derrick notes that he often sets the job's pace and can wear many hats. Sometimes, Derrick assists our contractors with making sure projects are on-track.
What Derrick Loves About His Job
Derrick says that he has a love of computers and gaming, and sees his job as "one big video game." Operating manipulators other heavy machinery feel similar to the controls in a video game. Because of this, Derrick enjoys training his fellow employees on these machines.
Derick says he loves seeing the end result of his work. When Derrick visits sites he's previously worked on, he feels proud of himself and his team. "It's awesome seeing your vision come to fruition," Derrick says.
Derrick says his father has been his number one supporter throughout his career. In addition, Derrick says it's nice to work at the same company as his brother. Derrick's brother, John Curley, also works at Kensington Glass Arts in our Baltimore location. Although the two do not see each other every day, Derrick enjoys knowing his family will always be there for him with his career.

College Versus Skilled Trades
While Derrick acknowledges that college can be a great path for some, Derrick wants to remind high school students that working in a skilled trade can "provide you with a good living,". He recommends that the skills you need to enter construction include an open mind, drive, and passion for the work you do. In addition, Derrick says that someone must be passionate about constant learning and self-improvement in order to stay up-to-date with current construction standards.

About Kensington Glass Arts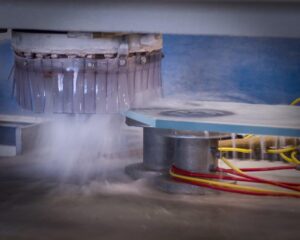 Kensington Glass Arts is a high-end commercial glass fabricator and installer. Typically, KGa focuses on the interior of buildings. If you're interested in working with us, check out our job openings here. Our offices are located in Frederick, Baltimore, and Ijamsville, Maryland. To learn more about Kensington Glass Arts, Inc. visit our About Us page.